The tragic death of Mahsa (Jina) Amini in police custody has sparked protests in Iran and around the world against the suppression of women's rights and state violence.
Shahrzad Mojab, a professor in the department of leadership, higher and adult education at the Ontario Institute for Studies in Education and acting director of the Women & Gender Studies Institute, says the uprising is unique because how he brought Iranians together.
"The unity of the people is remarkable in terms of demanding: 'Let's stay in the streets and be united in our struggle,'" she said.
There was an outpouring of support in Canada and around the world. At the University of Toronto, there were rallies, an online discussion and a vigil, among other shows of support. President Meric Gertler and Vice President, People Strategy, Equity and Culture Kelly Hannah-Moffat both issued statements condemning Iran's political brutality, human rights abuses and systemic violations of women's rights – and expressing their solidarity with those who speak out.
President Gertler's statement also addressed reports in recent days of police actions against student protesters on university campuses in Iran, and the particular concerns this raises for the University of Toronto and all institutions based on the academic freedom and freedom of expression. Universities Canada, which is chaired by President Gertler, also released a statement expressing concern.
As for Mojab, she spoke at a Thursday night rally that started at the University of Toronto's Sidney Smith Commons on the St. George campus and ended at Queen's Park.
Mojab participated in the women's movement, the Kurdish autonomous movement and student protests in Iran over 40 years ago, and was forced to leave Iran in 1983 due to her political activism.
U of T News told him about Amini, the massive uprising in Iran and what it means for the country's future.
---
Who was Mahsa Amini?
Mahsa (Jina) Amini was a 22-year-old Kurdish woman who traveled to Tehran for a family vacation. She was detained by the vice squad because they claim she was wearing her veil inappropriately. She was confronted, arrested and then taken to a detention center to be "re-educated" in terms of morals, Islamic codes and proper dress. She was beaten in police custody and transferred to hospital where she died a few days later.
The law on the compulsory wearing of the veil has been applied by the Islamic regime since it came to power. This has been the cornerstone of this government's Islamic identity. The law on the compulsory wearing of the veil is part of the Islamic Constitution, which is based on Sharia.
It has been brutally applied for over four decades with many implications. It is a massive suppression of freedom of expression, academic freedom, censorship of publications and different forms of artistic production. It is a removal of women's rights, control over women's sexuality and reproductive rights – all of this is enshrined in Iran's constitution.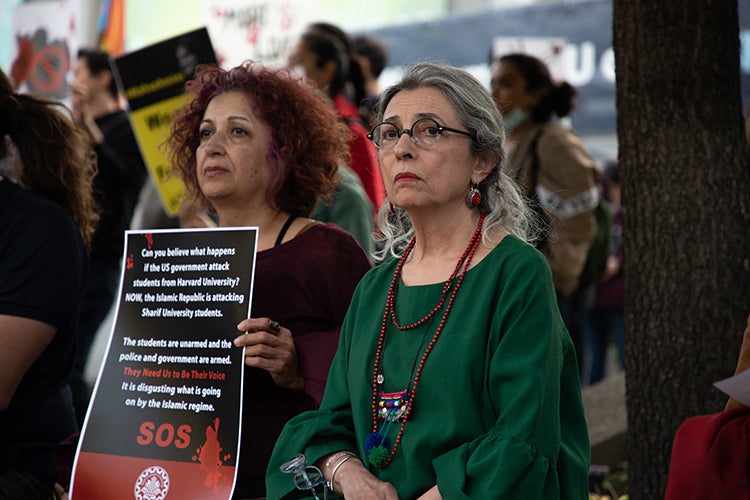 Shahrzad Mojab spoke at a rally on the St. George campus this week (photo by Polina Teif)
Why has Amini's death fueled such a strong response among Iranian youth, especially women?
People got very angry for several reasons.
The first is that Mahsa's family made it public that it happened to their daughter. They did not keep the secret. This bold act on behalf of the family has truly exposed the larger machinery of violence in this state. How are women treated? What happens at the time of the arrest? And where are they taken? There has been plenty of media and footage that has exposed the workings of this violence.
Second, Mahsa is a Kurdish woman – a member of a national minority that has been culturally, economically and politically repressed. These factors, combined with sexual oppression, were a force that sparked this massive uprising.
The third reason is that in recent years the government has intensified its repression of ideas of freedom by arresting women, human rights activists, environmental activists, union members, teachers, writers and artists. Just a few months ago, the death of a beloved poet, writer and filmmaker – Baktash Abtin – affected many people.
The last reason, which is extremely important, is the economic situation of the country. High inflation, lack of jobs, rising poverty and class division have also contributed to popular frustration and grievances. All of this greatly affected people's anger regarding Mahsa's death being seen as the final straw.
Hundreds marched from Sidney Smith Hall on St. George's campus to Queen's Park (Photo by Polina Teif)
Why have the protests spread around the world and what does the show of solidarity mean?
In the last four decades we have had the suppression of women's rights with the compulsory veil law, followed by military aggression against the Kurds, followed by the massacre of political prisoners, the repression of student movements – it was relentless. The international community is silent. Now that silence is broken. It is broken because the driving force behind this movement are young people and women. There is such incredible unity across the country that it's hard not to be moved.
People around the world have seen the connection between the white policeman's knee on George Floyd and the brutality of the Islamic police in Iran. They could see that it is the violence of the state, it is the structural forces that strangle people.
All over the streets, people are reacting to national oppression and the oppression of women. They can see the connection between the abortion ban in the United States and the rise of right-wing fascism in Europe. They see themselves in it, they see it coming to them – it's that level of political, cultural and economic violence.
I find it incredible to see this beautiful solidarity in Latin America, throughout the Middle East, in Europe and in North America.
Has Iran ever seen anything like this wave of protests?
Iran has observed many, many uprisings in different places at different times.
However, this is unique in terms of the unity he has created across the country. It is unique in that it involves students, workers, teachers, nurses – all professions are involved. People from rural areas, urban areas, small towns are getting involved. It's incredible. The whole country is on fire. Protests are creative, supportive and peaceful. The Islamic State is trying to impose its violence on protesters seeking freedom.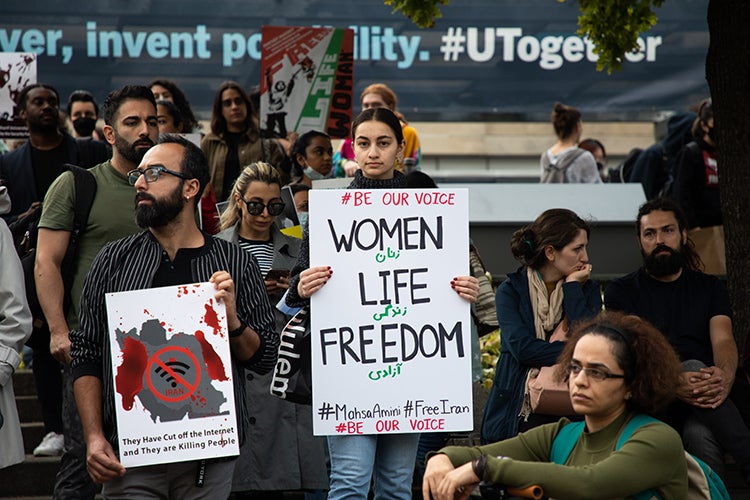 Neeki Alavi, a medical science student, says: "It's really important that the Iranian people are represented in the world right now" (photo by Polina Teif)
What are the issues here? What happens next for the regime, for the protesters?
It is a very difficult situation. People are rising up peacefully and democratically to express their rights. Opposite them is a militarized, secularized and brutal regime that is committed to suppressing people. The government is using its old rhetoric that this is western interference.
That's all the rhetoric people are sick of hearing. They know these are lies. So what we see is that it's face-to-face. It is an extremely dangerous confrontation. I don't know what will happen.
Since October 5, I know that university students have been on strike. They occupy campuses and there are various calls for a general strike. The unity of the people is remarkable when it comes to saying, "Let's fight this. Let's stay in the street and be united in our fight. They say: "It's not a demonstration, it's a revolution".