The University of Toronto will receive $56 million in funding from the Canada Infrastructure Bank (CIB) to accelerate the university's plans to create a climate-positive campus.
Through the launch of the LEAP project, the U of T will use CIB funding to complete deep energy retrofit projects – such as converting gas boilers to electric boilers and installing energy storage solutions. energy – to reduce greenhouse gas emissions by more than 50%, or 45,000 tonnes of CO2 equivalent, by the end of the decade.
The project will also involve private sector partners who will provide additional funding while meeting strict performance requirements.
It's all part of the U of T's ambitious Climate Positive plan to meet St. George campus emissions reduction targets that exceed physically produced emissions by 2050. The strategy focused on infrastructure complements efforts to advance sustainability in U of T's research, innovation and teaching missions – including the development of clean technology innovations that will aid Canada's efforts to combat climate change and the transition to a green economy.
"The University of Toronto is a world leader in addressing the urgent challenge of climate change," said University of Toronto President Meric Gertler. "Our Climate Positive plan is transforming energy sources and reducing energy consumption at our historic St. George campus. This will help us ensure that we can fulfill our mission of excellence in research and learning in a more sustainable way for generations to come.
"We are grateful to the CIB for recognizing and supporting our commitment to Canada's net zero goals and harnessing the innovation of cleantech startups on our campuses and beyond.
Ron Saporta, COO, Property Services and Sustainability, U of T, brings Ehren Cory, CEO of CIB, Karina Gould, Families, Children and Social Development, and U of T President, Meric Gertler, on a tour of the university's steam plant (photo by Johnny Guatto)
To date, CIB has funded more than 35 projects across Canada to develop the next generation of clean, connected infrastructure, including $2 billion for energy-efficient building retrofits.
CIB's agreement with the U of T represents the infrastructure bank's first partnership with an educational institution. It is part of the CIB's Public Renovation Initiative, which provides financial support for the renovation of buildings to achieve significant energy savings from publicly owned or managed infrastructure.
The financing partnership is expected to save the U of T more than $13 million over 25 years through lower interest rates on CIB-funded projects.
Ehren Cory, chief executive of CIB, praised the University of Toronto and its commitment to tackling climate change during an event held at the university on Tuesday to mark the collaboration.
"We hope this is a call to action for others in the public institution space," Cory said, noting that CIB also recently announced a partnership with Toronto Western Hospital, University Health Network. "We, as the broader public sector, own a lot of the building stock in this country — and a lot of the aging, less energy-efficient building stock in this country."
"This announcement is an important milestone, but it's only one step in your journey and we're excited to be with you along the way."
Planned U of T renovations include replacing gas boilers with electric boilers in its steam plant and installing an additional steam turbine. The U of T also plans to use CIB funding to undertake deep energy retrofits of two laboratories and the Earth Science Center, and to establish a local low-carbon energy source that provides renewable energy through technologies such as solar energy.
"Beneath our campus, we have one of the largest and oldest district energy systems in Canada," said Ron Saporta, COO, Real Estate Services and Sustainability, U of T. "It has more 120 years old and it is the main contributor to a large part of our carbon emissions as it heats and powers buildings.
"This project allows us to modernize this system and start moving away from fossil fuels as the main source of heating. We can upgrade energy-intensive buildings to reduce the amount of carbon they emit.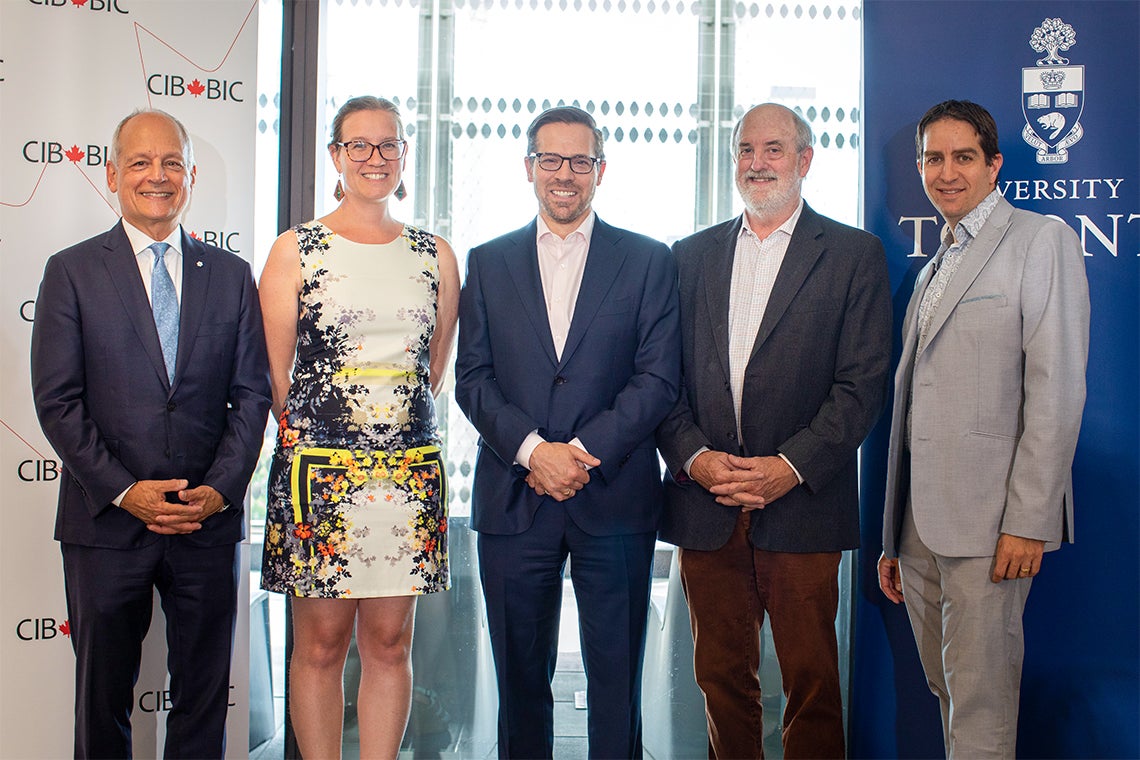 From left to right: Meric Gertler, Karina Gould, Ehren Cory, Scott Mabury and Ron Saporta (photo by Johnny Guatto)
There are also plans to pilot green technology solutions such as carbon capture and utilization and a waste-to-fuel 'digester' that would take over 500 kilograms of organic waste and convert it into fuel to heat buildings.
"The impact will be enormous – it will not only improve what happens inside these buildings, but also our university mission," Saporta said. "We have classes and courses on campus that study these types of renovations, but this is an opportunity to see it in real life."
The President's Advisory Committee on Environment, Climate Change and Sustainability has set a goal of 1,000 students per year participating in sustainability-focused projects and 5,000 students participating in community projects with partner organizations.
Karina Gould, federal minister of families, children and social development, said CIB's partnership with the U of T sets an example for students.
"Whether they're building infrastructure, communities or businesses, the first thing they need to consider is how they can leave our planet better than they found it," she said. "So together we can help our communities take climate action, strengthen our community and build a strong future for all."
The U of T's efforts to become a climate-positive institution have taken years.
In 2019, the university unveiled its low-carbon action plan, which set a target to reduce greenhouse gas emissions by 37% below 1990 levels by 2030 and to put it on the path to becoming a climate-positive institution.
A particularly publicized project is the urban geothermal system being built on the St. George campus. This involves drilling boreholes deep into the ground to store excess heat generated by nearby mechanical systems in the summer for use in the winter. The system – installed alongside the University of Toronto's Landmark project to make the St. George campus greener, more walkable and more accessible – is estimated to reduce the university's greenhouse gas emissions. 15,000 metric tons per year. Buildings around King's College Circle will need to be upgraded to take full advantage of the new system.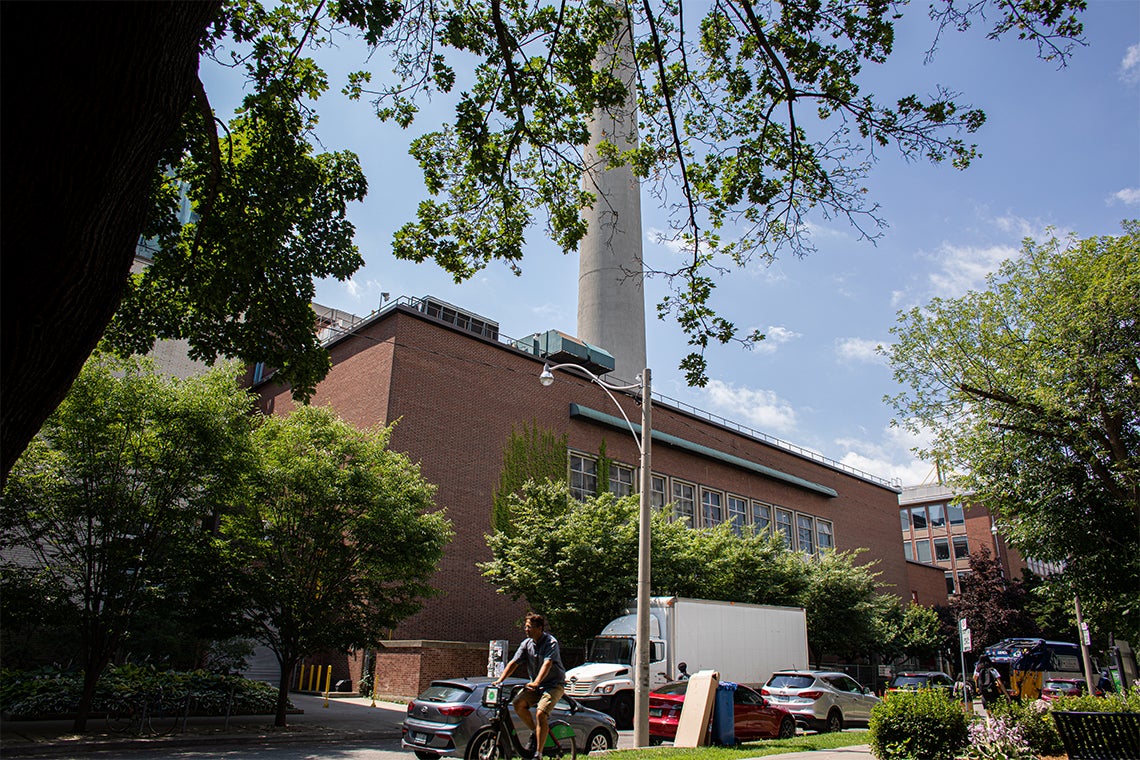 The St. George Campus Central Steam Plant is the hub of one of the largest and oldest district energy systems in Canada (photo by Johnny Guatto)
U of T's efforts to reduce emissions today are part of a plan for responsible growth that will see it double its infrastructure footprint on the St. George campus, even as emissions continue to decline well. below current and historical levels.
"The U of T is an engine of economic growth and prosperity for its region and for Canada," said Scott Mabury, Vice President, Real Estate Operations and Partnerships at U of T. scholars who support teaching, advanced research, collaboration with industry and startups at scale continues to grow.
"The CIB's commitment to the university's deep energy retrofit projects will help the University of Toronto meet this demand while reducing our carbon footprint and helping to build a green economy."
CIB's $56 million funding partnership with U of T, a leader in innovation, also promises to help Canada reach its net-zero greenhouse gas emissions goal. 2050.
Saporta said the partnership marks an exciting step in the University of Toronto's positive climate journey.
"It pushes us all to achieve this positive climate goal as quickly as possible."